Screens
Are you baffled, confused or even bemused by all the LCD's on the market and don't have enough spare time to wade through the cacophony of data sheets!
Talk to us about your requirements for a rugged LCD. We have a lot of technical experience and work with the best suppliers in the market with a wide range of offerings, customisation services and great long term support.
We offer a wide range of rugged displays for military applications that are designed to operate reliably in harsh environments and cover all three platforms:
Air: Rotary and Fixed Wing
Land: Vehicles, Soldier and Shelters
Sea: Ships, Boats and Submarines
The advantage here is the low volume customisation we can implement.
15″ – IP67 PROTECTED MAN-PORTABLE COMPUTER FOR USE IN MILITARY APPLICATIONS
VarTech's 15″ rugged all-in-one computer system designed to support mission-critical field and ground-mobile applications.
This man-portable panel computer system is intended specifically for use in rugged military and blue light environments. Constructed to IP67 specifications, the computer can be deployed to support mission operations including access to satellite communication systems, field surveillance, enhanced situational awareness and target acquisition radar.
Built to rugged MIL-Spec specifications
The units can be manufactured with either an embedded or removable computer. The FieldStation can also be built to your specifications with up to 3, 1 × 6 function keypad switches embedded in the bezel and up to 8 (including power), MIL-DTL 38999 I/O connectors in the rear of the unit.
FULL SPECIFICATIONS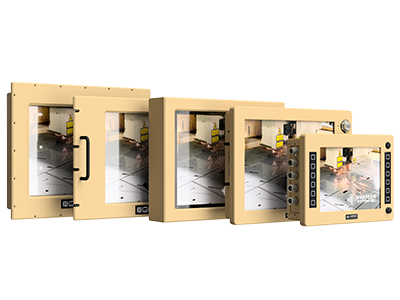 COTS MILITARY MONITORS AND PANEL PCS FOR MISSION CRITICAL APPLICATIONS
Military grade COTS monitor, and panel computer products built for mission critical military and defence applications.
VarTech's COTS military grade monitors and panel computers are built to conform with demanding military specifications (MIL-SPEC) guidelines.  These rugged military grade display products are designed for use in mission critical battlefield vetronics in ground mobile, avionics and naval applications.
Environmental and functional upgrade packages are available for military and defence applications on land, at sea or in the air.
These upgrades are also available for non-military applications requiring night vision systems or EMI shielding such as the automotive industry, law enforcement and search and rescue.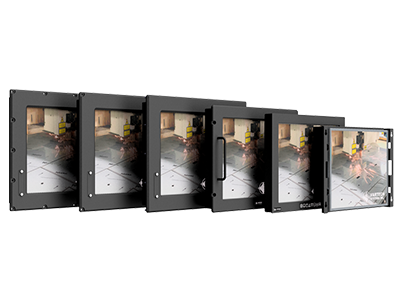 MARINE GRADE MONITORS AND PANEL COMPUTER'S FOR MARITIME APPLICATIONS
Marine grade monitors and panel computers built to withstand all weather and temperature conditions of harsh marine environments.
VarTech manufacture a variety rugged all-weather displays and panel computers for use in harsh maritime applications. These marine grade display products provide maximum protection against wet and dirty work environments. Robust features such as IP67 waterproof enclosures, high bright sunlight readable screens, fully range dimming and shock & vibration resistant components further insure uninterrupted operation in marine environments.
VarTech marine grade displays are available with several touchscreen technologies, making them suitable for bridge control, navigation, monitoring/surveillance and ship automation. These Marine grade LCD Displays are the best choice for open cockpits, fly bridges, bright pilothouses, and other applications requiring protection against harsh marine conditions.
ALL-WEATHER MONITORS & PANEL COMPUTERS
8.4" – 21.5" Screen sizes
All-Weather Touchscreen Monitors and Flat Panel Computers Built with a Solid State Design and IP67 Protection.
VarTech's All-Weather All-Terrain touchscreen monitors and panel computers are built with industrial-grade components. The very robust enclosure is milled from billet 6061 Aircraft Aluminium and offers a slim profile with many standard core features and options.
Constructed to IP67 specifications, these fully-sealed All-Weather/All-Terrain displays and panel PC's are protected from the ingress of dust and water, including temporary submersion. Designed to meet MIL-STD/MIL-Spec specifications for wide temperature ranges, shock and vibration protection, EMI protection and direct sunlight conditions are available.
ALL WEATHER DATA SHEET
DIAMONDVUE MONITORS & PANEL COMPUTERS
6.5" – 43" Screen sizes
VarTech's flagship DiamondVue Series of touchscreen monitor displays and flat panel computers are available in various mechanical/mounting designs and sizes.
The adaptive design of DiamondVue monitors and panel computers enables the same mechanical footprint for standalone displays and panel computers alike, expanding versatility to a wider range of industrial, commercial, and military applications. New clip mount bezel options offer a slimmer design, and displays are easily mounted without having to drill holes. Expanded large and wide format screen sizes allow operators to have improved visibility and operability of HMI functions and process control.
DIAMONDVUE DATA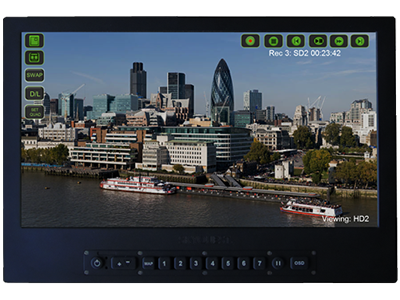 AVDU
10.5″- 21.5″
Curtiss-Wrights AVDU range of rugged mission displays offers a unique combination of new technology, including optically-bonded glass and dual mode NVIS-compatible LED backlighting and a rich feature set including a highly flexible video input capability and touchscreen over USB support.
Enhanced software features enable system configuration flexibility and touchscreen capabilities that fulfill a wide range of mission requirements.
The AVDU is currently available in five display sizes and resolutions to address a wide variety of applications on ground, airborne and naval platforms. Fully qualified to established environmental standards, the displays can be used in standalone mode, where multiple video input capability can be used to present a number of configurable operator views, or as part of a Curtiss-Wright video management system (VMS) alongside video distribution switches and recorders.
SVDU
7″ – 21.5″
Curtiss-Wrights SVDU range of rugged mission displays offers a unique combination of new technology, including optically-bonded glass, dual mode NVIS-compatible LED backlighting, and full touchscreen operation. Supporting a single DVI input and a USB touchscreen the SVDU range is the ideal companion to a mission computer.
The SVDU mission displays are currently available in six display sizes and resolutions, and two types of touchscreen panels, to address a wide variety of applications on ground, airborne and naval platforms. All the displays are fully qualified to established environmental standards.
The displays feature a DVI video input and USB interface on a highly rugged 38999 connector to provide a secure connection even in highvibration environments, with the added benefits of environmental protection offered by this type of connector.
The newest display in the SVDU range (SVDU-M) is a 7 inch display with a projected capacitive (PCAP) multi-touch panel.  PCAP multipoint touchscreen technology enables operators to use familiar smartphone interface techniques to annotate, draw and manipulate screen images. In contrast, traditional resistive touch screens are only able to respond to the touch of a single finger.
GVDU
The GVDU range is developed with ground vehicle requirements and specifically the Generic Vehicle Architecture (GVA) standard, in mind. The GVDU range of displays combine military rugged design, in a size, weight and power (SWaP) optimised display with market-leading performance and a rich, exible set of features including GVA programmable bezel buttons and video over Ethernet capability based on the MODUK DEF-STAN 00-82.
The GVDU range will be available in 10.4, 12.1 and 15.6. Larger sizes (17 and 21.5 for example) may be available upon request. All displays are fully qualified to established military environmental standards and can be connected to a wide variety of video sources.
GVDU displays offer a unique combination of new technology, including optically-bonded glass for perfect anytime readability, as well as full touchscreen operation based on a unique projected capacitive touchscreen that offers multi-touch as well as gloved and wet operation.
An internal embedded processor enables the displays to provide an enhanced set of interfaces including Ethernet, USB, RS-232/RS-422 and GPIO. The internal processor provides DEF-STAN 00-82 video over Ethernet capability, graphics input to the displays, and receives all touchscreen and bezel button operations. The processor may be used to implement a map display, function as a mission computer or decompress and display network video, amongst many other possibilities.
RVDU
As modern land vehicles increasingly depend on the proliferation of cameras mounted on the vehicle to provide 360 degree situational awareness, the need for low cost, size, weight, and power optimised, rugged displays is on the rise. Similar to the latest cars on the market, ground vehicles benefit from having an operator display that shows them whats behind them while reversing. Displays for such applications dont require the latest in display technology or processing, but do need to maintain reliability in the harsh environmental conditions of the battlefield.
The Rugged Video Display Unit (RVDU) is a SWaP optimised and rugged display designed for non-mission critical applications such as vehicle reversing and equipment monitoring.
The 7 inch, 800 x 480 pixel, widescreen display has two CVBS (composite video) inputs and two digital inputs. Ambient light sensors on the RVDU automatically change the screen brightness to the optimal setting for visibility in any light conditions, while the LED backlight provides a clear, crisp picture. A CAN bus control interface is provided for seamless software upgrades and for interfacing with Curtiss-Wright video management solutions such as those in the Rugged Video Gateway (RVG) product line. Environmentally qualified to military standards, the RVDU is a fully sealed unit and is IP65 rated which eliminates the risk of sand or water ingress over the life of the display. With buttons on the front that enable the operator to control screen brightness, select the video input and illuminate the keys for night mode, the RVDU provides a low cost solution for ground vehicle video applications with one or two cameras.