Layer 1 Switch
Test lab equipment integration with Physical Layer Switch
During Covid a lot of test engineers realised that it would be really cool, if all the kit in their test labs could be on a unified network and accessible via the web, allowing them to continue their test work from home.
How great would that be? – Here's how you do it with a Physical Layer Switch
The easiest way to think of a Layer 1 (L1) switch, also known as a physical layer switch, is as an electronic patch panel. Completely transparent connections between ports is performed based on software commands sent to the L1 switch over its control interface. In testing environments, this allows the tests to be as accurate as if there were a patch cord between the devices.
Using Layer 2 (L2) switches for connection purposes in a test environment can cause a number of problems. In L2 switches, the output bit stream is different from the input bit stream in that MAC control frames, such as pause frames, are discarded by the MAC layer. Also the differing clock timing forces the PHY on the L2 switch to add/delete idle characters to compensate, making it impossible to compare input data streams to output data streams when testing using an L2 switch.
L1 switches on the other hand, are fully transparent to the traffic going through them. Once a connection is made between two ports the attached devices are essentially directly connected. L1 switches have very low latency and do not store or manipulate a single bit in the data stream. The internal hardware architecture of the L1 switch allows the L1 switch to duplicate any incoming data to any number of output ports at full wire speed without dropping a single bit. This allows testing of multiple devices from a single test set or output. Software simulation of cable breaks (port flapping) can also be simulated using software-defined duration times and repetitions of the simulated cable break.
One of the principle financial motivators for upgrading to Test Automation is the pooling of commonly used equipment and sharing it on-demand. Lepton ColdFusion Layer 1 Switches eliminate manual cabling in Test Labs, which saves set up time, cuts errors and allows your teams pool resources to accelerate new releases. The one-time connection of Test Tools and Devices Under Test to the Layer 1 Switch also enables 24/7 testing and full remote access to your Lab.
ColdFusion Layer 1 Switches are available in small and large rack mounted form factors. The compact 4RU size has port counts from 32 all the way up to 256 (with 1:4 breakout cables), and the larger Switch can scale up to 1024 ports of 1G to 28GB ports, or 256 up to 128GB ports, so whether you run a small test environment or a large Regression Lab, ColdFusion has your test automation needs covered.
Up to 128Gb Layer 1 Switches compatible with any media and scalable to over 1000 ports in a single chassis
As network products become more complex, so do their testing requirements; as a result, an ever increasing portion of the product development cycle is spent on QA and regression testing. Additional test equipment and network devices are needed both to support the functions being tested and to scale up the network topology.
Automating the Test Lab can help shorten the QA test cycle, reduce the lab's CAPEX and OPEX requirements, and increase test coverage and product quality.
Implementing test lab automation without automating the cable re-wiring presents many challenges that need to be dealt with. Some of these challenges include:
Manual cable rewiring disrupts automated tests and may double test time

Manual coordination of rewiring leads to poor lab equipment utilisation and control

Remote access is limited and can depend on support from local personal

Reproduction of test topologies requires more manual work and more time

Simulation of certain network failure conditions and cable breaks can be a challenge.
Lepton's ColdFusion Layer 1 test automation switch enables the automation of 100% of lab infrastructure. With ColdFusion, one can make network topology changes with the click of a button, or by integrating QA test scripts with ColdFusion APIs.
ColdFusion is the largest scale and density Layer 1 test automation switch available, capable of interconnecting up to 256 100G interfaces or 1024 10G/25G interfaces, allowing you to:
Increase Lab Resource Utilisation

Run the same number of test cases using fewer test tools and DUT's

Gain full control and visibility over who is using lab resources, and for how long

Schedule and reserve resources

Allow remote test engineers to share the same lab resources

Reduce lab equipment idle time.
Reduce test time
Reduce unnecessary troubleshooting time due to manual cabling mistakes

Build, modify or teardown test topologies quickly and reliably using scripts

Quickly isolate and troubleshoot test problems.

Reduce test setup time

Free up Test Engineers' time to focus on their core technology challenges.
Save money
Reduce CAPEX through an increased utilisation of a smaller number of tools

Reduce Opex as automation increases and manual labour decreases
Reduce time to market, increasing savings and profits.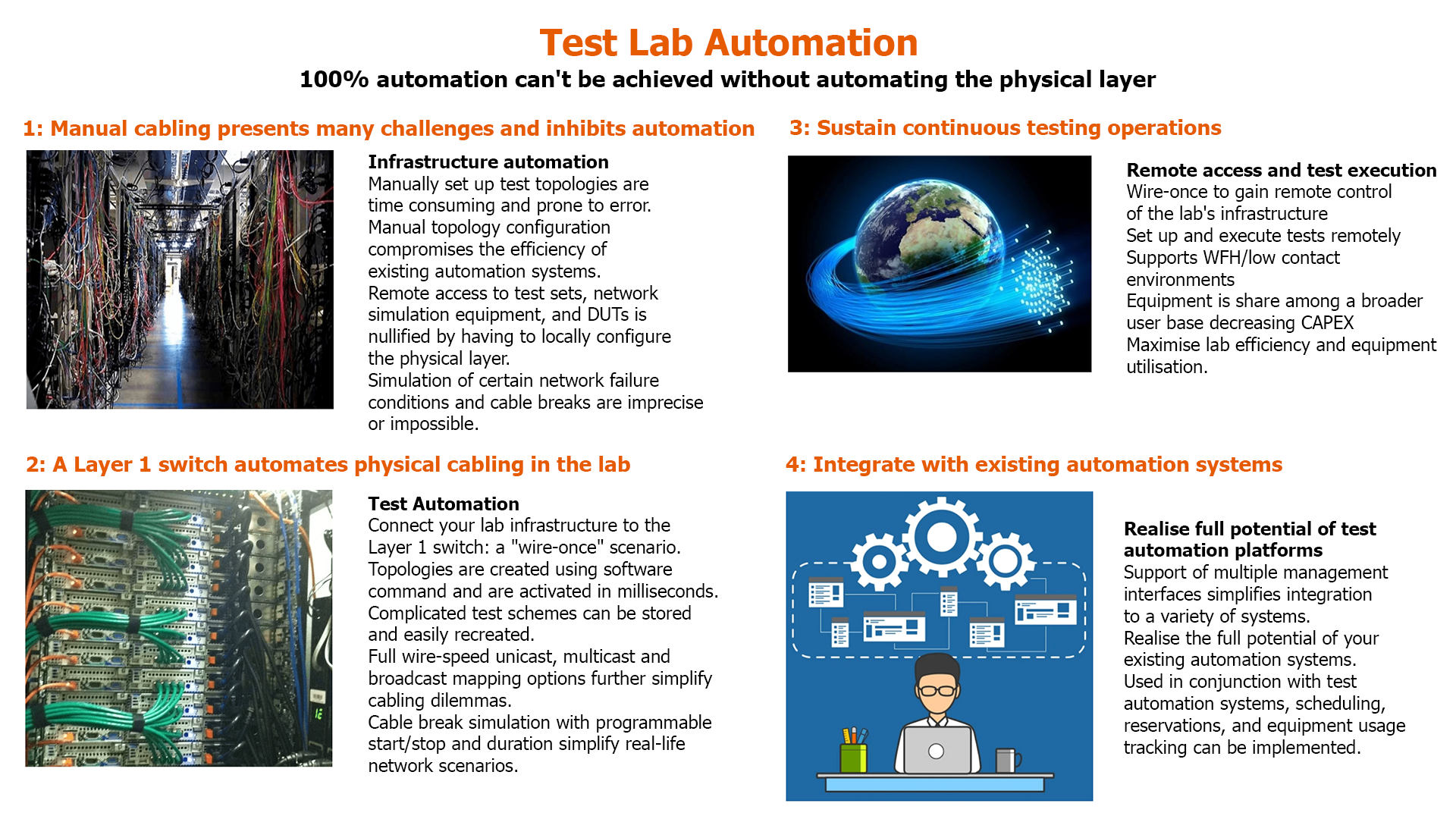 L1 Testing Scenarios