VME
An old one, but still a good one for upgrades and tech insertions.
We have a full range of VME processor cards from Curtiss Wright and Concurrent Technologies, along with IO from NAI, high density ADC and DAC from General STDs, NTDS from GET plus Avionics databus from AIM.
PROCESSORS
Ready to upgrade your VME systems with modern capabilities, without the complexity and cost of a complete redesign? Bring the latest high-performance processing and Trusted Computing protections to your VME systems with a Curtiss-Wright VME single board computer (SBC). Featuring contemporary processing technology, these 6U VME SBC modules offer a simple way to increase the performance of systems required to offer higher levels of functionality than previously deployed.
Example: VME-196 combines the performance and the advanced I/O capabilities of the NXP quad-core AltiVec enabled T2080 processor. The VME-196 is supported by Curtiss-Wright's U-Boot, Green Hills INTEGRITY, Lynx Software Technologies LynxOS, Yocto NXP SDK-based Linux and Wind River VxWorks 6.9 and 7 Board Support Packages (BSPs) and driver suite.
Designed for SWaP-constrained applications, the VME-196 supports a rich I/O complement. An AltiVec-enabled processor provides four AltiVec engines running up to 1.8 GHz, allowing reuse of your tried and true algorithms and reducing development cost and schedule, along with slot and power reduction.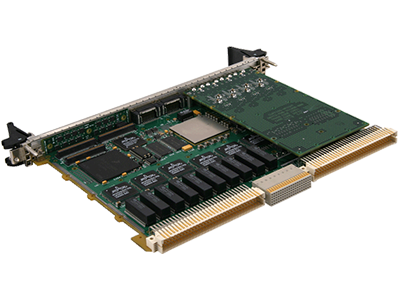 NETWORKING
Curtiss-Wright VME switches and routers provide systems integrators with a fast and powerful way to interconnect chassis, cards, and CPUs through switched Fast, Gigabit and 10 Gigabit Ethernet links.
Operating at wire-speed, the VME Ethernet switching and routing cards can be used to architect the network infrastructure for transferring IP-based control and data packets within advanced military systems. Both managed and unmanaged versions are available to support air-cooled and rugged conduction-cooled defense and aerospace applications. A VME Physical Layer Switch allows non-blocking, multi-protocol physical layer switching.
Example: Suitable for a wide range of embedded computing and vehicle network applications, the VME-690 provides 20 ports of standards compliant 1000BASE-T Gigabit Ethernet to the VME backplane. Optional optical interfaces provide an additional four Gigabit links. The VME-690 features a highly integrated enterprise-class switch device that delivers line-rate switching on all ports across all packet sizes. Integrated multi-layer switching software provides an extensive set of features for monitoring and enforcing traffic policies. Management interfaces include a powerful command line interface, SNMP and web-based options. In-band management and networking features provide support for both IPv4 and IPv6.
DIGITISERS
In addition to providing high performance, Tekmicro digitiser boards have been designed for ruggedisation and power management. Their products operate effectively in laboratory, rugged air-cooled and rugged conduction-cooled environments to meet the needs of deployed applications.
Example: The QuiXilica Gemini-V6 VXS is a 6U VME and ANSI / VITA 41 (VXS) compliant high-speed digitiser board that combines high density FPGA processing with the latest 12-bit ADC and DAC technology. The Gemini-V6 supports either one 12-bit input channel at 3.6 GSPS or three input channels at 1.8 GSPS, combined with a high speed output channel at up to 4.0 GSPS.
By employing three Xilinx Virtex-6 FPGAs, it combines high resolution wide-band signal acquisition and generation with the onboard high density FPGA processing for a range of radar and Electronic Warfare applications such as target generation, jamming, and CM / CCM techniques. The result is a single slot solution that utilises the latest ADC and DAC technology, supports advanced signal processing of up to 8+ GB/s of digitised data and forwards the results through VME, VXS or front panel connection via SFP+ or CXP to the next processing stage.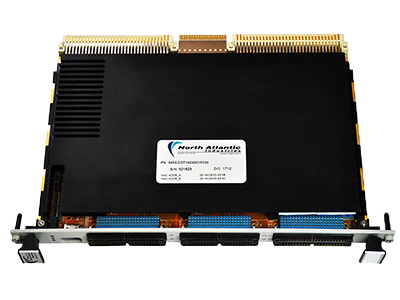 IO
Unitronix offer a range of VME IO cards, that cover various IO options that include anologue, digital, serial, single and muli-function.
For more details head over to our designated IO page here.
Example: 64C3 – 6U VME I/O & Comm Board
Six I/O and communication function module slots.
NAI's 64C3 is a 6U VME Multifunction I/O and Communication Master or Slave (user selectable) Control Board with six function module slots that can be configured with a variety of I/O and communication functions.
Using multiple DSPs, the enhanced motherboard enables higher processing power and dedicated pre-processing control for each module.
RADAR MODULES
Our radar display and scan conversion modules along with our software, simplifies the integration of advanced radar image processing and distribution functionality into demanding deployed military radar applications. Our solutions provide ultra-high radar scan conversion performance with minimal CPU utilisation by leveraging the power and performance of today's commercial off-the-shelf (COTS) single board computers (SBC) and graphics processing capabilities.
Example: Cougar2 is an open-standards based high performance solution for capturing, converting and mixing radar video. Designed for demanding military radar applications, Cougar2 speeds and simplifies the integration of advanced radar image processing and distribution functionality into deployed embedded systems.
Based on a single-slot 6U VME form factor Intel Core i7-based host Single Board Computer (SBC), Cougar2 allows applications to be executed locally or remotely via a network for which an API is provided. Cougar2's RVL+ API is supported on Windows and Linux platforms for ease of application development and configuration.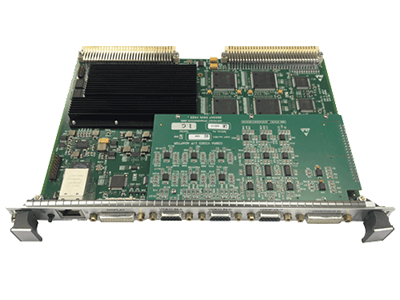 VIDEO WINDOWING
Curtiss-Wright video windowing solutions are designed to meet the most demanding defence and aerospace applications. For high-performance, multi-input video window processing, Curtiss-Wright Video Mixer and Windows Processors enable display of up to 4 channels as windows.
Example: Cobra2 is a high performance, multi-input, video windows processor that can accept up to 12 video inputs per card and select up to four for display as windows on a high-resolution, digital flat panel or analogue display. Video inputs can be PAL, NTSC, RS-170, RS-343 or high-resolution computer video up to 1600 x 1200 and 1920 x 1080, with considerable flexibility in the formats and video timings.
In addition to the four video windows, an overlay or background high-resolution graphics signal may be input to the card as separate DVI or analogue RGB video. The card supports a wide variety of display configurations including quad-video, picture-inpicture, full-screen zoom and alpha blending and cross mixing of video sources.
View – Combining multiple video sources onto a single screen 
POWER
A full line of Commercial Off-the-Shelf (COTS), Modified COTS and Custom Power Supplies – including configurations that meet VME, cPCI and VPX (VITA 62) requirements. All comply with environmental standards designed for harsh environments, including MIL-STD-810G, VITA 47 and MIL-STD-901. These rugged power supplies also have integrated EMI filters per MIL-STD-461 standards.
Example: 44KS2 +5 VDC to +3.3 VDC 75-Watt Converter 6U VME
NAI's 44KS2 is a 75-Watt DC/DC Converter that plugs directly into a standard 6U VME chassis with an 0.8" slot. It is conduction-cooled through the card edge/wedgelock. This switching power supply accepts a +5 VDC input and converts it to a single +3.3 VDC output at 75 Watts. The 44KS2 is ideal for powering single board computers or any other devices that require +3.3 VDC.
STORAGE
DS MS1/0xx is a mass storage module that is designed to work with one or more Concurrent Technologies VME processor boards.
Key Features
Multi drive VME mass storage module
Requires a VMEbus slot
Either supports three 2.5-inch SATA drives
Or supports one SATA drive and a CD/DVD drive
Supports a CompactFlash® site
Rear transition module required to connect SATA ports from processor boards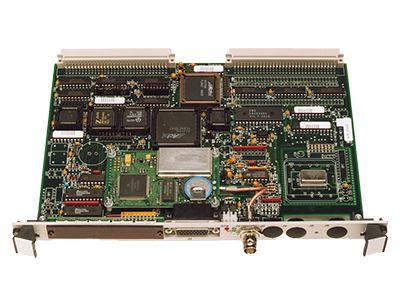 TIMING
Brandywine offers a range of timing plug-in card VME form factors.  With the largest variety of options including standards like IRIG B, 1PPS, Have Quick, and GPS you can customise your timing card to fit your needs.
Example: VME-SyncClock32 Single slot 6U, 32-bit precision timing module
The VME timing card is a standard board level product of Brandywine Communications.  With a single slot 6U, 32 bit precision timing module, the VME card is compatible with VME computers. Precision synchronisation to various inputs and convenient timing outputs to external equipment are standard on Brandywine's VME card. With Brandywine's countless options, you can customise your VME card to fit your needs. The VME syncclock32 card has a rich history in many mission critical deployments around the world and provide the quality and reliability expected from Brandywine's bus level timing products.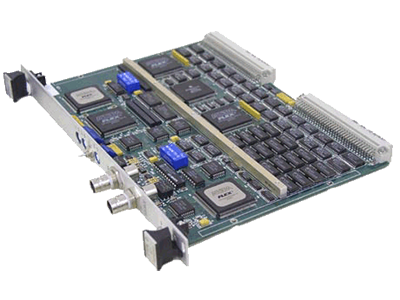 NTDS
GET's VME Interface Adapters offer the highest levels of performance and flexibility available on any NTDSVME board in the market. GET offers VME serial boards in NTDS Type D or E. Parallel versions include multiple configuration options including rear I/O, front and rear I/O, and Dual Tap. A 4MB Dual Ported RAMallows data buffers to remain onboard and not utilise VME bandwidth.
Thier onboard 68K processor gives users the ability to create a system emulator. GET VME boards not only include complimentary drivers for most operating systems, but come standard with free firmware and software upgrades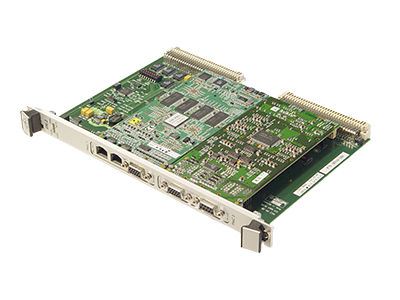 AVIONICS DATABUS
AIM is a leading designer and manufacturer of high performance test and simulation modules, embedded interfaces, databus analysers, network analysers and customised systems for MIL-STD-1553A, ARINC429, AFDX/ARINC664P7, ARINC825 (CAN bus) and Fibre Channel.
AIM's field proven, robust and mature product suite is unsurpassed in the avionics test and simulation market and our pedigree is recognised throughout the world. Our products and services set the standard for the industry.
For more information head over to our designated Avionics page here.