Blackbird
High performance in a compact 95 x 125 x 37 mm footprint. Featuring the Intel "Skylake" CPU, the EPU-4562 series provides high performance video processing on-board and a TPM security chip that can lock out unauthorized hardware and software access and provide a secure "Root of Trust." Additional security is provided through built-in AES (Advanced Encryption Standard) instructions.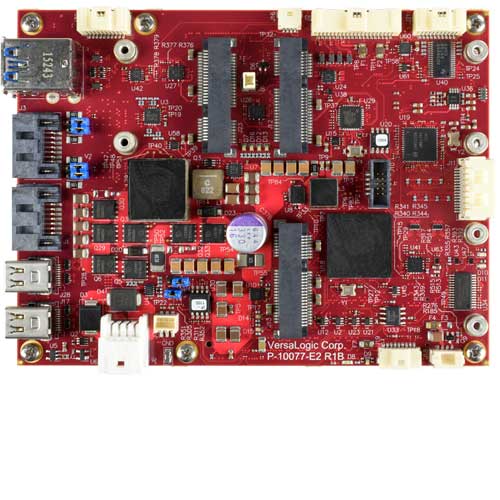 The Blackbird is a compact, high performance x86 type board-level embedded computer. It has been engineered and tested to meet the military and medical industries' evolving requirements to develop smaller, lighter and lower power embedded systems while adhering to stringent regulatory standards. The Blackbird is a member of the VersaLogic family of ultra-rugged EPU embedded computers. Using fully integrated COM components, the Blackbird is supplied fully assembled and tested, including heat plate, ready to install in a system. In addition to providing a very compact footprint, it is designed to withstand extreme temperature, impact and vibration.
The Skylake processor options feature quad- and dual-core CPUs along with Hyper-Threading logic allowing up to 8 simultaneous threads to be executed. The Blackbird provides great performance and I/O features, moderate power consumption (15 to 22 W typical depending on model) and a compact package. The Blackbird provides compatibility with a broad range of standard x86 application development tools for reduced development time.
The on-board power conditioning greatly simplifies system power supply requirements. It features an input voltage range of 8 to 30 volts and is fully compatible with 12 or 24V vehicle applications. It also includes reverse voltage protection, over voltage protection, RF noise filtering and transient voltage protection, to provide enhanced durability and reliability in the field.
Designed and tested for industrial temperature (-40° to +85°C) operation, the rugged Blackbird also meets MIL-STD-202G specifications for shock and vibration. Latching SATA, Ethernet, power, and main I/O connectors provide additional ruggedisation for use in harsh environments.
Blackbird is compatible with a variety of popular x86 operating systems including Windows, Linux, and VxWorks.
COT's modifications are available, even in low OEM quantities. Modifications include conformal coating, BIOS / splash screen configuration, application specific testing, BOM revision locks, custom labeling, etc.
VersaLogic products are designed for use by OEMs working in a variety of market applications: Aerospace, Defence, Energy, Industrial, Security, Medical, Military, Robotics and Transportation. VersaLogic delivers extremely reliable standard and customised embedded computers backed with unsurpassed service and the highest availability in the market.