cPCI
3U: A very popular architecture for industrial, transportation and defence applications
We offer a range of commercial and ruggedised processor boards, IO cards and FPGA with digitisers to suit a wide range of applications. Complementary products including storage, XMC/PMC carriers and rear transition modules are available to increase choice for system developers.
6U: High-Performance, highly integrated boards based on Intel®Core™ processors.
Unitronix supplies Concurrent Technologies' range of 6U CompactPCI products.
Complementary products include switch fabric boards, XMC/PMC carriers and rear transition modules, IO cards, 1553, NTDS and high speed ADC DAC solutions. Board support packages for a range of operating systems are supported to ensure ease of integration.
3U SBC
3U CompactPCI ® (CPCI) continues to be a popular architecture, particularly for transportation and defense applications. We offer a range of commercial and ruggedised processor boards based on high performance Intel® Core™ processors, or the lower power Intel® Atom™ processors.
Example: TP B9x/31d is plug compatible with the popular TP B1x/3sd family allowing transitions for higher performance and longer life deployments.
Quad and dual-core processor variants available to match application performance and power requirements
Up to 32GB DRAM with built in in-band ECC for reliable operation
Built in I/O interfaces including SATA, USB, Ethernet, graphics, GPIO and serial
Second-slot option for XMC module Optional M.2 module for local storage
6U SBC
Our range of 6U CompactPCI ® products provides the user with a choice of high performance, highly integrated slot controllers and peripheral controllers. These boards use Intel® processor platforms for ease of programming and widespread availability over long life-cycles.
Example: PP F84/m3d is a single slot, air-cooled CompactPCI® board and is available for customers who need better performance and security as well as those looking to extend the life of existing deployments without a backplane change.  PP F84/m3d is based on a 4-core Intel® Core™ i3-9100HL processor with 16 Gbytes soldered DDR4 ECC DRAM.  It has two front Gigabit Ethernet ports for enhanced connectivity and two XMC/PMC module slots to maximize local I/O expansion.  With security being a pivotal part of recent applications, PP F84/m3d has a Trusted Platform Module (TPM 2.0) and supports Intel Boot Guard as standard.  It also comes with an array of peripheral interfaces and with the option of a high bandwidth direct attached storage module up to 1TB capacity.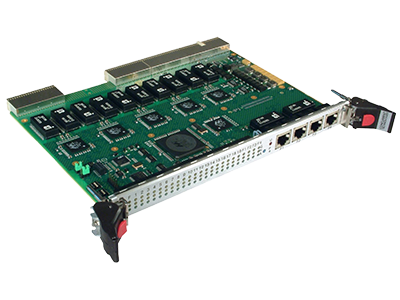 ETHERNET SWITCH
Example: The FP 110/019 is an entry-level 24-port 10/100/1000Mbps Ethernet Switched Fabric Board for use in CompactPCI® PICMG® 2.16 and VITA 31.1 Packet Switched Backplane environments. It supports up to nineteen node boards, a fabric to fabric link and for user connections, up to four front panel Ethernet interfaces.
It offers high speed, full line rate Layer 2 switching fabric on all Ethernet ports. Quality of Service (QoS) operation is supported with four priority queues and a variety of traffic classes for time-critical and multimedia traffic. System monitoring is provided by the PICMG 2.9 compliant IPMI subsystem, supporting the IPMB0 serial management bus. It is an excellent choice for cost sensitive applications. Typical applications include networking equipment, voice over IP (VoIP) telephony systems and blade-based servers. Options to operate in temperatures ranging from -40°C to +85°C are available. Ruggedised conduction-cooled versions are available and ruggedised air-cooled versions are planned.
Unitronix offer a range of IO cards, that cover anologue, digital, serial, single and muli-function.
Example: NAI offers a variety of rugged embedded Multifunction I/O Cards in 3U & 6U versions. When combined with their smart function modules they have the ability to meet a wide range of complex and time-critical sense and response requirements for I/O-intensive, mission-critical applications. Specifically designed for the most demanding defence, commercial aerospace and industrial applications, these boards are built with a modular I/O approach that accelerates deployment of COTS-based, high-density, SWaP-optimised solutions.
VISIT IO PAGE
3U PSU MODULES
NAI designs and manufactures a full line of Commercial Off-the-Shelf (COTS), Modified COTS and Custom Power Supplies. All comply with environmental standards designed for harsh environments, including MIL-STD-810G and MIL-STD-901. NAI's rugged power supplies also have integrated EMI filters per MIL-STD-461 standards.
Specifically designed for rugged defence, industrial, and commercial applications operating in extreme conditions, these high-density power supplies provide significant cost benefits and deliver COTS solutions that accelerate deployment of SWaP-optimised systems in air, land and sea systems.
MASS STORAGE
We offer storage options from Concurrent Technologies and Red Rock.
Example The TP MS1/xxx 3U CompactPCI® Mass Storage Module supports up to four 2.5 inch SATA300 mass storage drives, two on the controller board, and two additional drives on an expansion board or elsewhere in the chassis. The controller board can support various hardware RAID functions for the two additional SATA300 storage drives. Additionally there is support for a CompactFlash™ drive. The controller board is designed to work with a range of CompactPCI systems, including 32/64-bit, 33/66MHz backplanes using 3.3V or 5V signaling.
It is capable of operating in temperatures ranging from -40°C to +85°C where it is suitable for a range of applications within the defence, industrial control, telecomms, telemetry, scientific and aerospace markets. Ruggedised air-cooled versions are planned. In harsh environments solid-state Flash drives or ruggedised rotating drives are required.
3U DIGITISERS
Pentek offer a wide range of digitisers in 3U form. Contact us for more information.
Example Model 73791 is a 3U cPCI board that accepts RF Signals from 925 MHz to 2175 MHz. One programmable LNA handles L-Band input signal levels from -50 dBm to +10 dBm, a programmable analog downconverter provides IF or I+Q baseband signals at frequencies up to 123 MHz, Two 500 MHz 12-bit A/Ds digitise IF or I+Q signals synchronously with optional 400 MHz 14-bit A/Ds.
It provides Two FPGA-based multiband digital downconverters,  Xilinx Virtex-7 VX330T or VX690T FPGAs  and 4 GB of DDR3 SDRAM.  Sample clock synchronisation to an external system reference,  Clock/sync bus for multimodule synchronisation.  Optional LVDS connections to the Virtex-7 FPGA for custom I/O.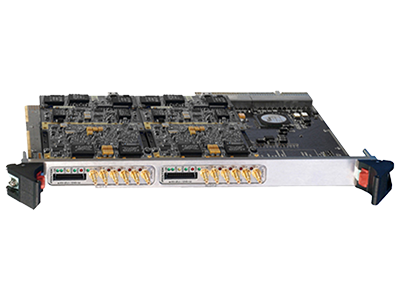 6U DIGITISERS
Pentek offer a wide range of digitisers in 6U form. Contact us for more information.
Example: Model 74761 is a 6U cPCI board with two XMC modules. It is a complete radar and software radio interface solution that supports Xilinx Virtex-7 VXT FPGAs. GateXpress supports dynamic FPGA reconfiguration across PCIe. It provides Eight 200 MHz 16-bit A/Ds, Eight multiband DDCs (digital downconverters) and Multiboard programmable beamformer. It also offers 8 GB of DDR3 SDRAM,  Sample clock synchronisation to an external system reference and LVPECL clock/sync bus for multimodule synchronisation
TIMING
Brandywine offers a range of timing plug-in cards.  With the largest variety of options including standards like IRIG B, 1PPS, Have Quick, and GPS you can customise your timing card to fit your needs.
CPCI-SyncClock32 3U CPCI timing plug-in with +5V and +3.3V signaling
The CPCI SyncClock32 3U timing card provides precise 32 bit input/output timing to a computer that is equipped with 3U CPCI expansion slots.  This compact PCI receiver modules provide a precision time and frequency reference for the 3U CPCI chassis and PXI chassis.
NTDS
Industrial computing solutions requiring CompactPCI (cPCI) connectivity standards for NTDS Tactical Data applications can rely on GET Engineering's family of cPCI adapters. These adapters take advantage of the ruggedness of the cPCI passive backplane architecture to reliably transact NTDS data.
Ease of insertion and extraction is provided by a durable latching mechanism integrated into the front panel design. The NTDS interface and other operational parameters are completely software configurable through our proprietary Common User Interface (CUI) driver.
Unitronix have decades of experience supplying and supporting defence and industrial applications. Our engineering team is here to assist both pre and post sales. We offer in-country support through the lifecycle of our products.
Trust us, we have your back.
ENGAGE WITH US