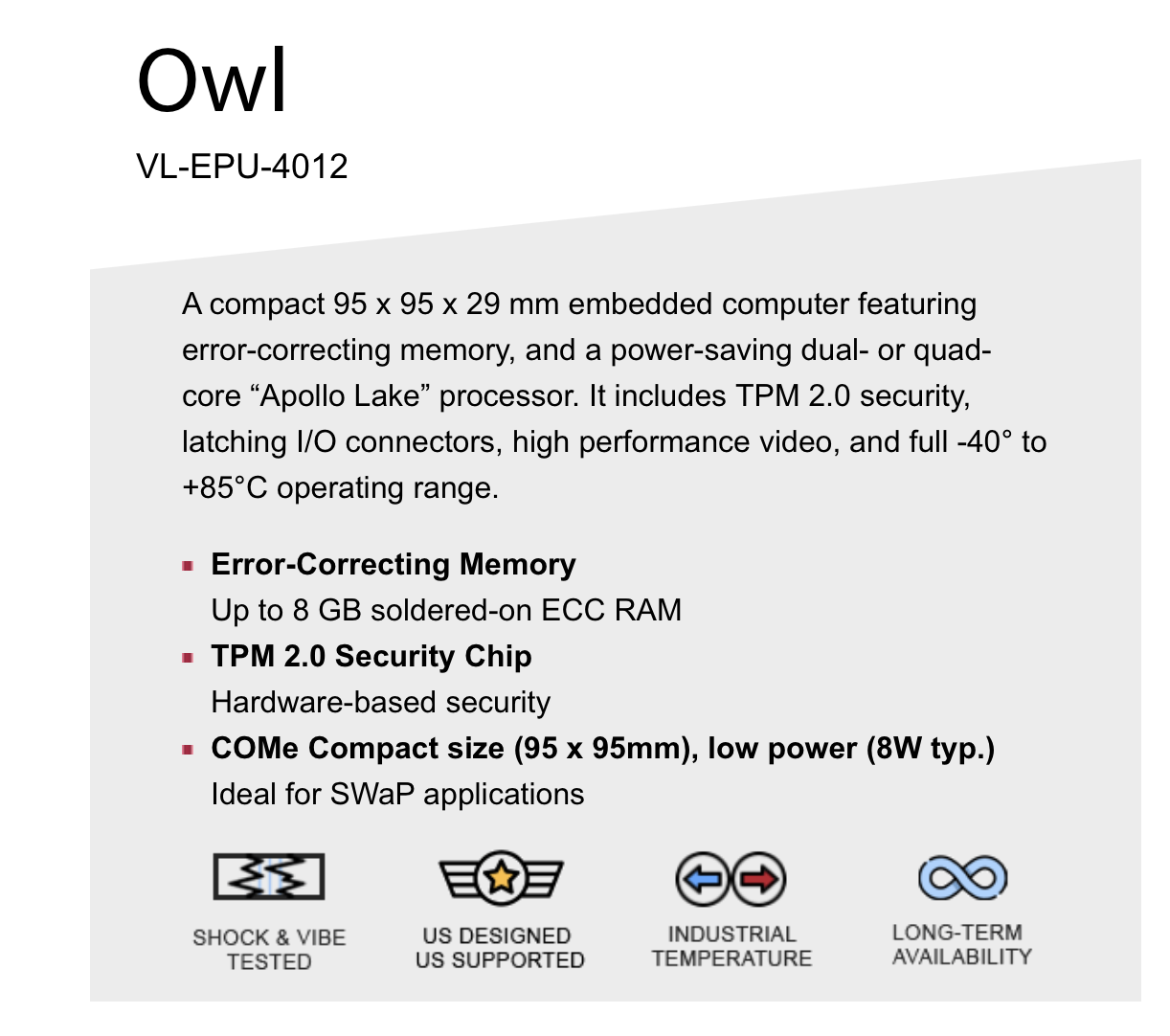 The Owl is a small, rugged board-level embedded computer. Approximately four inches square and one inch thick, the Owl is a member of VersaLogic's ultra-rugged x86 computer family. Equipped with a powerful dual- or quad-core Intel "Apollo Lake" processor and soldered-on ECC RAM, the Owl is designed to withstand extreme temperature, impact and vibration.
Up to 8 GB of soldered-on Error Correcting Code (ECC) memory is available for high-reliability applications. ECC memory is beneficial in environments where single bit memory errors may occur, such as cosmic ray interactions which increase dramatically with altitude.
A TPM 2.0 chip supports hardware-based security.
On-board I/O includes dual Gigabit Ethernet, USB 3.0 and 2.0 ports, serial ports, and analog inputs. SATA interface, eMMC Flash options and a microSD socket provide a range of data storage options. Dual Mini PCIe sockets accommodate a wide range of plug-in accessory cards.
The on-board power conditioning supports an input of 8 to 30 volts to simplify system power supply requirements. The Owl is fully compatible with 12 or 24V vehicle applications. Over Voltage Protection and Reverse Voltage Protection are included to enhance reliability in the field.
For hostile environments, the Owl, a member of the VersaLogic EPU product family, is designed and tested for full industrial temperature operation (-40º to +85ºC) and meets MIL-STD-202H specifications for shock and vibration.
VersaLogic's 10+ year product life support programs ensure long-term availability. This avoids expensive upgrades, redesigns and migrations that come from shorter lifecycle products.
Designed and tested for industrial temperature (-40° to +85°C) operation, the rugged Blackbird also meets MIL-STD-202G specifications for shock and vibration. Latching SATA, Ethernet, power, and main I/O connectors provide additional ruggedisation for use in harsh environments.